Addiction makes it seem like it's impossible to quit drinking or using drugs, but quality addiction treatment services can help you reach your goals.
The Recovery Village Cherry Hill at Cooper is dedicated to helping people break free from addiction and start the path to recovery on the right foot. Our New Jersey facility is easily accessible to Camden residents who are ready to take those first steps and start a drug- or alcohol-free life.
Substance Abuse Statistics in Camden
Hudson County, like many parts of New Jersey, has been impacted heavily by drug and alcohol abuse:
In 2019, Camden County led the state in the total number of substance abuse treatment admissions at 8,913 despite being only the eighth most populated county in New Jersey. In a report by the New Jersey Department of Human Services, the primary drug of abuse for people in Camden County was heroin, followed by alcohol, marijuana and opiates.
Additionally, a report by the Camden County Addiction Awareness Task Force found that from 2010–2018, overdose deaths in Camden County increased by 370%. This increase in deaths is largely due to the rise in synthetic opioid use, but it makes clear that evidence-based treatment for people suffering from substance use disorders can literally save lives.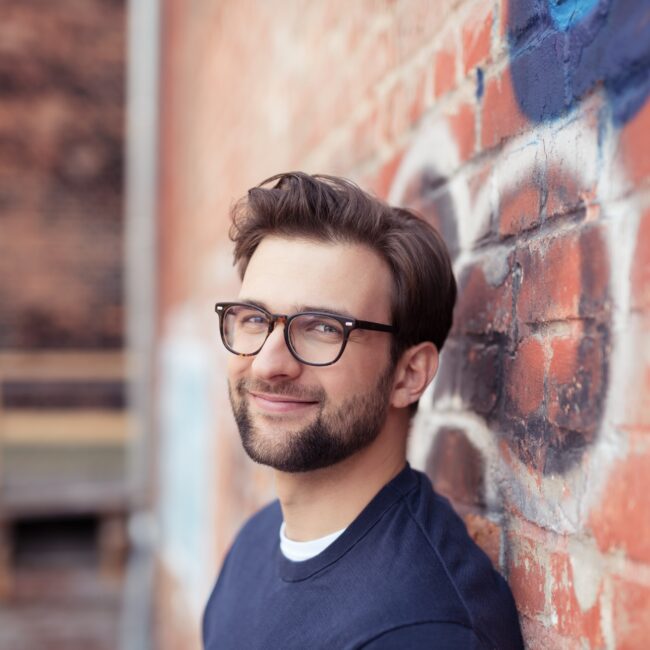 Drug and Alcohol Addiction Treatment in Camden
Clearly, quality drug and alcohol treatment in Camden is a major priority. Decades of research have shown that getting help at a professional addiction treatment center can help people quit substance use, reduce their risk of relapse, and improve their quality of life.
But not all treatment centers offer the full range of treatment services. Data suggests that people who seek detox at a hospital, for instance, have higher rates of relapse than those who go to a specialized addiction treatment facility.
Part of the reason for this disparity is that detox in a hospital is less likely to be followed up by further rehab care, which can help people build the skills and coping mechanisms required for lasting sobriety.
At The Recovery Village Cherry Hill at Cooper, we offer medical detox, inpatient treatment, outpatient care, aftercare and more to provide lasting support.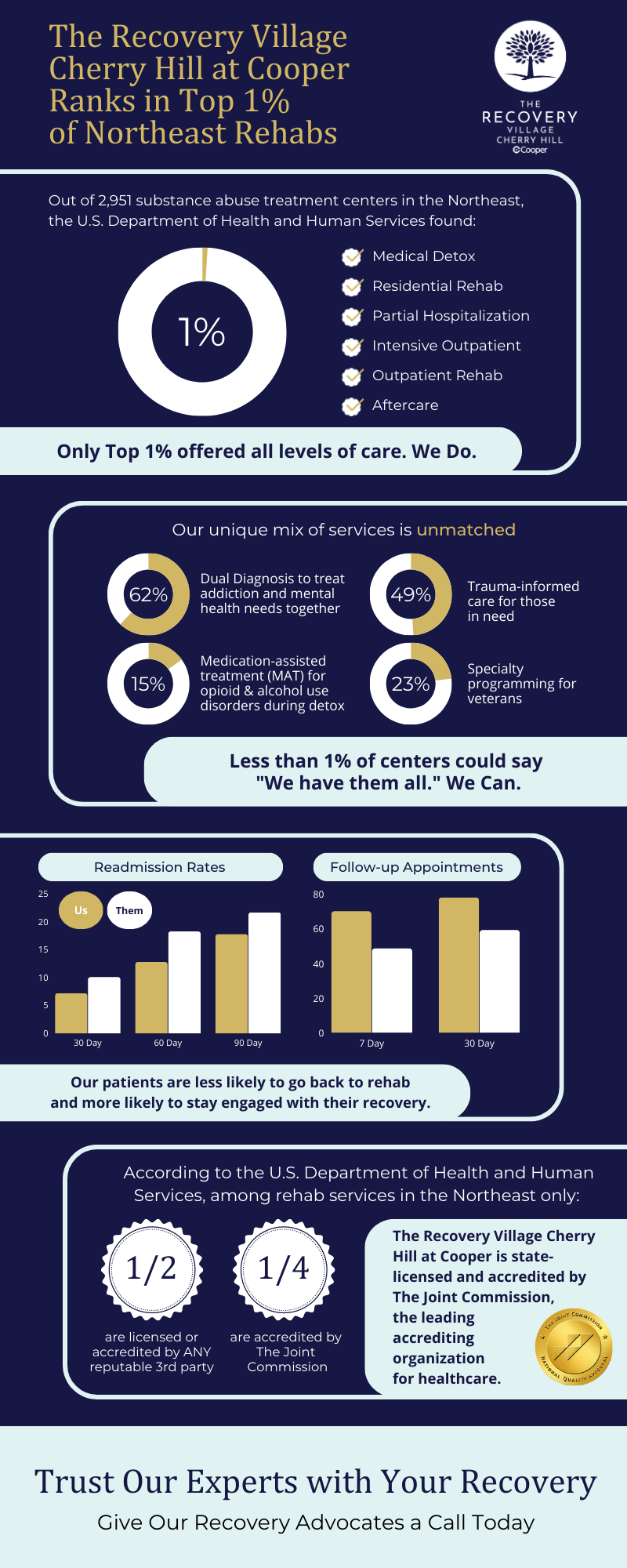 Aftercare
All of our treatment programs at The Recovery Village Cherry Hill at Cooper include extensive aftercare planning. Aftercare planning helps people make the transition from addiction treatment into everyday life, and can include:
Building a relapse prevention plan
Online teletherapy
Referrals to additional medical care, as needed
Connecting clients to community resources
Recommending support groups
Socializing with alumni groups
Helping clients find supportive housing
By continuing to assist our clients even after they have left our direct care, we ensure that they have everything they need to sustain healthy lives in recovery.
Addiction Treatment Therapies in Camden
At The Recovery Village, we emphasize evidence-based treatment in all of our addiction treatment programs. By focusing on therapies that research has proven to be effective, we ensure that every client gets the best possible chance of achieving sobriety and maintaining it long-term. Just a few of these methods include:
Cognitive behavioral therapy (CBT)
Motivational interviewing (MI)
Dialectical behavioral therapy (DBT)
Group therapy
Individual therapy
Family therapy
Recreational therapies, like art therapy or yoga
Medication-assisted treatment (MAT)
Dual diagnosis treatment
All of these therapies work together to help people learn to manage their cravings, build healthy coping mechanisms, and establish new thinking and behavioral patterns in their sobriety.
Free AA & NA Meetings in Camden
12-Step support groups, such as Alcoholics Anonymous and Narcotics Anonymous, can be incredibly beneficial for people overcoming substance use disorders. These programs are absolutely free, and the only requirement for membership is a desire to stop drinking or using drugs.
In Camden, there are hundreds of these groups that meet every day of the week. Look for meetings at the New Beginnings clubhouse, at the 400 Club in Clementon, or online with the Narcotics Anonymous Meeting Finder or South Jersey Alcoholics Anonymous Intergroup's website.
Why Travel To The Recovery Village Cherry Hill at Cooper?
The Recovery Village Cherry Hill at Cooper was built from the ground up to help people overcome every aspect of a substance use disorder. With a full continuum of care, quality evidence-based treatment, and compassionate therapists and medical providers, there's no better place for Camden residents to work toward recovery.
We know how difficult it can seem to overcome addiction, but it is possible. Reach out to our team to learn more about our treatment options and start your path to wellness today.