Drug and Alcohol Addiction Treatment in Brick, NJ
Brick, NJ has one of the state's highest opioid-related overdose rates. Our programs at The Recovery Village Cherry Hill can help.
Brick, New Jersey, once a family-friendly coastal town in Ocean County, has been heavily affected by the state's drug and alcohol crisis. In 2020, New Jersey ranked tenth for the highest opioid-related deaths in the country.
Help is available if you or a loved one is struggling with addiction. There are treatment facilities, rehab centers, and support groups for drug and alcohol abuse near Brick Township.
Substance Abuse in Ocean County, NJ
Ocean County, New Jersey has been significantly impacted by drug abuse. In 2020:
Finding A Rehab in Brick, NJ
When it comes to addiction treatment, there is no one-size-fits-all solution. The Recovery Village offers various treatment programs that provide different levels of care. The first step to recovery is finding a program that best suits you:
During inpatient rehab, an individual stays at a facility for a certain period of time while receiving treatment for drug and alcohol addiction. Inpatient typically involves regular medical care, individual and group counseling, holistic recreational therapies and planning for aftercare.
During outpatient care, an individual lives at home or in a sober living community and visits the treatment center for weekly medical support and counseling. It is a good option for someone with mild addiction symptoms or who has completed an inpatient program and wants to continue receiving support.
Our PHP is a step between inpatient and outpatient care. It grants patients access to around 20 hours of weekly medical care while allowing them to go home at night, giving them the independence of an outpatient program. A person who needs daily rehab services but does not need residential treatment would benefit most from this program.
Drug Detox near Brick, NJ
Drug detox is the first critical step in the recovery process and is necessary if you are dependent on opioids or alcohol. When you detox, your body eliminates drugs and alcohol from its system, giving you a new foundation to build healthy habits. Detox can cause uncomfortable and potentially dangerous withdrawal symptoms. Due to this, it is best to be monitored throughout the detoxing process.
At The Recovery Village, we work to make sure every person is as safe and comfortable as possible while detoxing. We offer medication-assisted treatment to help manage uncomfortable symptoms and provide 24-hour medical care. Your focus can shift towards understanding and overcoming your addiction once you have completed detox.
Mental Health and Addiction Counseling Brick, NJ
Dual diagnosis is when someone has a co-occurring substance use disorder and mental health condition. In many cases, a co-occurring mental health condition and substance use disorder can exacerbate each other's symptoms. Our dual diagnosis treatment offers inpatient and outpatient care that helps patients address both conditions and understand how they influence each other. By treating both conditions, the patient can heal the root of their addiction, not just manage its symptoms.
Aftercare and Continuing Care
Recovery is a continuous effort that goes beyond the completion of a treatment program. Our goal at The Recovery Village Cherry Hill at Cooper is to help patients acquire the tools necessary for ongoing recovery. Our aftercare program connects patients with resources, support groups, and people that will aid them in their new life without drugs or alcohol. Resources include support groups, ongoing therapy, sober living accommodations, and medication-assisted treatment. We also offer teletherapy with Nobu, a mental health app that matches you with a licensed therapist after rehab. Before leaving, each person receives a customized aftercare plan for their individual needs, setting them up for success following rehab.
Does Insurance Cover Rehab?
Money shouldn't be an obstacle when it comes to addiction treatment. In most cases, insurance will offset some or all of the costs of drug and alcohol treatment. It is important to understand your policy as coverage varies between policies and providers. We accept Amerihealth, Blue Cross Blue Shield, Optum, Cigna, Aetna, Humana, and more at The Recovery Village Cherry Hill at Cooper.
Don't see your insurance listed above? You can verify your coverage instantly on our website or by contacting our admissions team.
Why Travel To The Recovery Village Cherry Hill?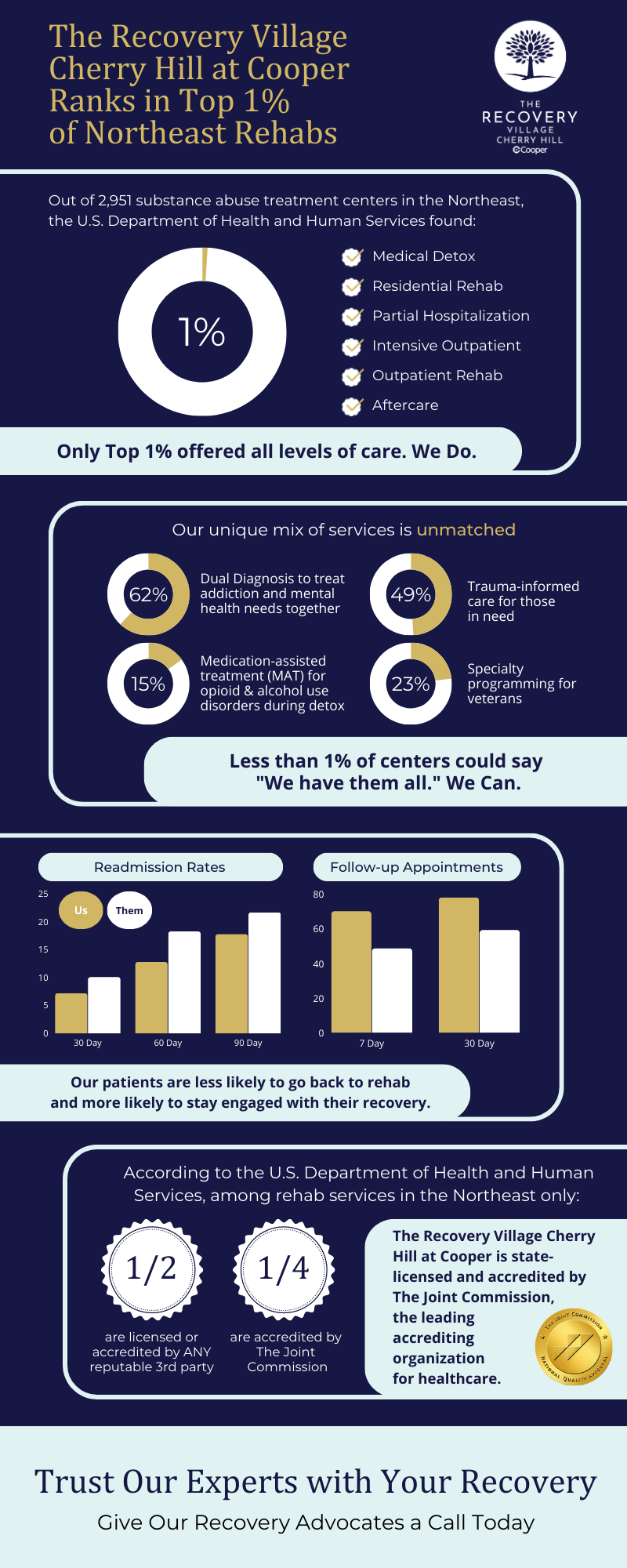 A drug and alcohol rehabilitation center is the best place to go when facing addiction. Attending treatment away from home can help you focus solely on your recovery, separate you from potentially harmful triggers, and give you a fresh start. Depending on where you live, it may be worth traveling to a facility best suited for you.
The Recovery Village Cherry Hill offers patients excellent, evidence-based care that gets to the root of their addiction. We provide comprehensive care at every level of recovery, from detox and inpatient treatment to outpatient care and aftercare. Treatment plans are personalized and can feature dual diagnosis care for co-occurring disorders and medication-assisted treatment when appropriate.
The Recovery Village Cherry Hill is a convenient location for local and out-of-state clients. Our facility offers healing living spaces and relaxing recreational lounges. Our amenities include an indoor basketball half-court, an outdoor volleyball court, a yoga room, and more. Our culinary staff also offers vegan and vegetarian-friendly meals.

Reach out now
We can help answer your questions and talk through any concerns.