Substance use disorders and mental health conditions can cause a vicious cycle that makes the symptoms of both worse. Learn how dual diagnosis treatment can help.
It's common for substance use disorders to occur at the same time as other mental health conditions. Each of these conditions can affect the other, exacerbate symptoms and make treatment difficult. A dual diagnosis recognizes the presence of both an addiction and a mental health disorder. This can also be referred to as co-occurring disorders or comorbidity.
At The Recovery Village Cherry Hill at Cooper, we believe that each person should be treated as a whole, which means addressing conditions that occur alongside an addiction. We offer dual diagnosis treatment programs that address both addiction and mental health disorders simultaneously.
What Is Dual Diagnosis?
A dual diagnosis occurs when someone is diagnosed with a substance use disorder and one or more co-occurring mental health disorders. Many times, undiagnosed mental health conditions can cause behaviors that lead to addiction. Additionally, substance misuse and addiction can cause mental health disorders to develop.
This vicious cycle makes it important for all conditions to be treated at the same time. For example, a person experiencing abnormal levels of anxiety may use substances like alcohol in an attempt to self-medicate. If the anxiety is not treated, a person may be more likely to relapse even after completing rehab. By treating the root of the problem behind an addiction, recovery can become easier to manage and maintain in the long term
Common Co-Occurring Disorders
The most common co-occurring disorders include:
Statistics on co-occurring disorders show that 37.9% of adults with substance use disorders have a mental health condition, and 18.2% of those with mental health conditions had a substance use disorder.
Dual Diagnosis Symptoms
It can be difficult to tell when a co-occurring disorder is present because many effects of substance use disorders can cause symptoms that are similar to mental health disorders. For example, drug withdrawal can cause symptoms of anxiety and depression.
Because there is such a wide variety of drugs and effects, addiction specialists use screening tools to determine when a dual diagnosis may be appropriate. After medical detox and initial addiction treatment begins, it may become easier to spot the signs of underlying mental health conditions.
General signs of co-occurring disorders are similar to those of addiction, including:
Avoiding relationships with family and friends
Sudden changes in behavior
Difficulty managing daily responsibilities
Engaging in risky behaviors
Neglecting health and hygiene
Losing control over substance use
Experiencing withdrawal symptoms
Feeling the need to use a substance to function normally
Self-Medication and Substance Abuse
Many people develop substance use disorders because they begin using drugs or alcohol to cope with the symptoms of a mental health condition. Self-medication may reduce feelings of anxiety or depression in the short-term, but this can cause mental health disorders to develop or worsen. The consequences of self-medication can include delayed treatment and the development of drug tolerance, dependence or addiction.
Dual Diagnosis Treatment
When someone is admitted to a drug rehabilitation facility, they will be screened for the presence of mental health disorders. This dual diagnosis assessment will allow doctors to create a personalized program that addresses substance use and any other identified mental health conditions.
Because it is important for all disorders to be treated simultaneously, those looking for treatment should make sure the facility they choose offers evidence-based dual diagnosis treatment.
Co-Occurring Disorders Treatment Plan
Co-occurring disorders treatment is multifaceted and may include a blend of therapy sessions and medication (when medically appropriate). "Talk therapy" is an important part of understanding personal identity and addressing underlying issues that contribute to addiction and mental health. These counseling sessions help rebuild mental health by strengthening communication, improving family relationships and replacing harmful thoughts and behaviors with healthier perspectives. Therapy programs may include:
Living with a dual diagnosis is a challenge that you don't have to face alone. With an estimated 51.5 million Americans over the age of 18 experiencing mental health issues, and 20% of Ohio adults living with a mental health condition within a given year, there is no shame in reaching out for help. Like your physical health, mental health is a key factor for a successful life. When combined with the confines of addiction, mental health disorders can become co-occurring disorders that severely limit your potential.
By treating substance use disorders and mental health issues together, you can learn to overcome the effects of both. There are several resources throughout Ohio, including online co-occurring disorders worksheets and in-person therapy.
The Recovery Village Columbus serves all of Ohio and the rest of the United States with comprehensive care for dual diagnosis. With the help of a caring staff and personalized treatment plan, you can identify and understand your struggles for sustained recovery. Call us today to get started.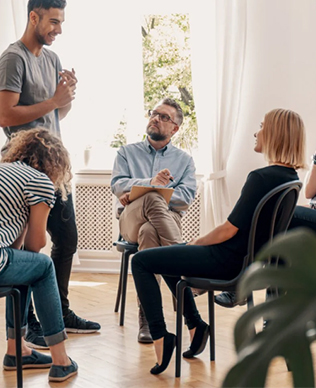 Questions?
Our Recovery Advocates are ready to answer your questions about addiction treatment and help you start your recovery.